1. La Villuerca. A journey to the sky of the Geopark.
At its summit the whole of the Geopark is at your feet. On a clear day you can see from Gredos and the Tajo to the Guadiana and from Trujillo to all the sierras of the so-called Appalachian relief which is so characteristic of this territory. If the day is overcast the clouds move about its valleys in the same way as the waters of the ancient seas where it originated.
You can see Guadalupe with its monastery, the source of rivers, very special fossils, and works of our ancestors to take advantage of all its resources. All this while birds and other animals accompany you and you are surrounded by an exuberant and changing flora which will make you come back. Four seasons, four landscapes. Follow the geological itinerary to its peak in a fascinating journey through time.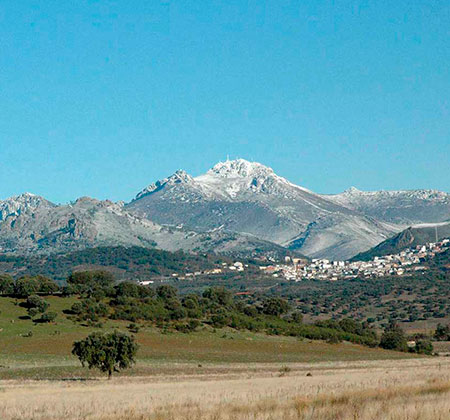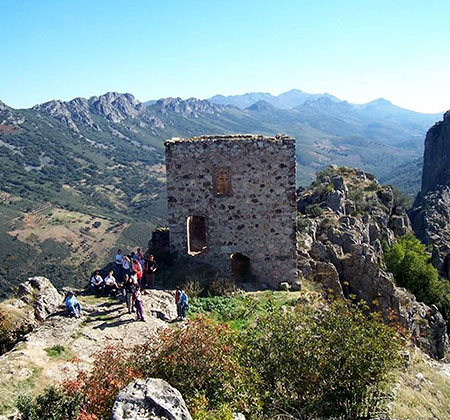 2. Cabañas Castle and Syncline of Santa Lucía. A bird's eye view of heritage.
Perhaps you don't know it, but you are ascending a sea bottom which has been placed vertically by the forces of our planet. The views from its vantage point will leave you speechless: medieval ruins, hillside debris, the border between Mediterranean woodland (the dehesas) and Atlantic woodland (oak groves), vulture nesting sites, and many hidden treasures. This small village was of great importance in the past and has a charm all its own. One of the places in the Geopark you will never forget.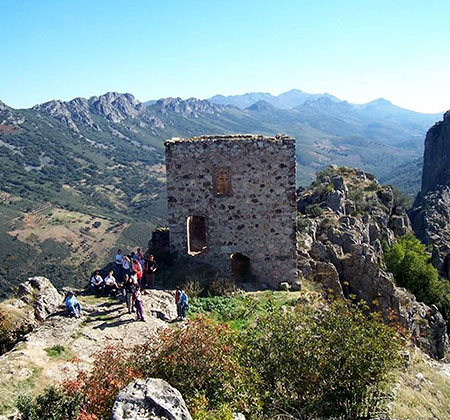 3. Peña Amarilla Defile. A stroll through our history in the heart of nature.
The reason for its name (Yellow Crag) will be obvious when you get there. In this majestic place the colours will amaze you. Rocks arranged like pages in a book, ready to tell you millions of stories, from its origin at the bottom of the sea to its use as a shelter for people, animals, and plants. Ancient kings crossed these landscapes. Now you can do so too.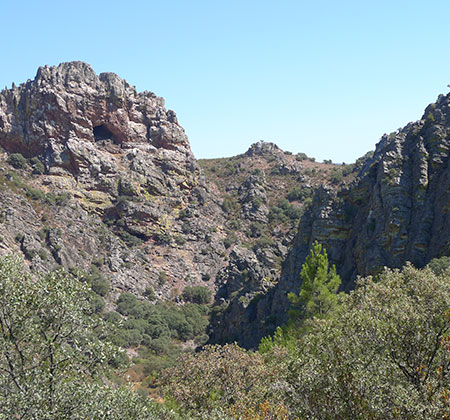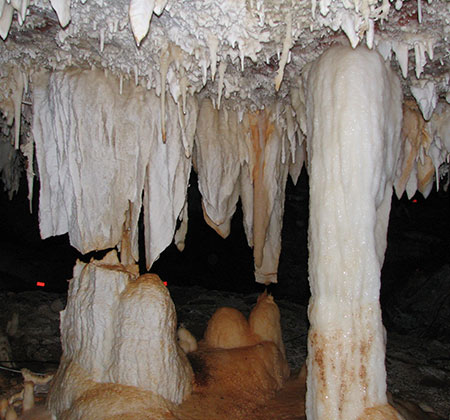 4. Castañar de Ibor Cave and its interpretation centre. An underground treasure.
For 2 million years water has been dissolving rocks formed on sea bottoms of 550 million years ago. Two completely different worlds which have given rise to a unique spot. Its richness of forms and the peculiarity of its composition make this a matchless spectacle. This is so to such an extent that its formations in the shape of a pompom are the symbol of the Geopark. On the other hand they are so delicate that their conservation is vital and visits are strictly controlled, but you always have the option of getting to know them at its interpretation centre. Travel to (almost) ???? the centre of the Earth.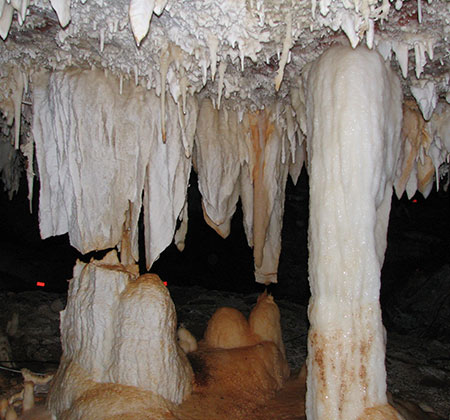 5. Defile of El Pedroso. Where water makes its way.
A quiet stroll on the banks of the Tajo leads you to an incredible place. You won't realise it until you get here and a canyon excavated by the El Pedroso Stream opens up before you just before it flows into the Tajo. The forms which have been moulded in the granite will surprise you. So will the works constructed by our ancestors to make the best use of the energy of the water. Find this treasure which nature has hidden.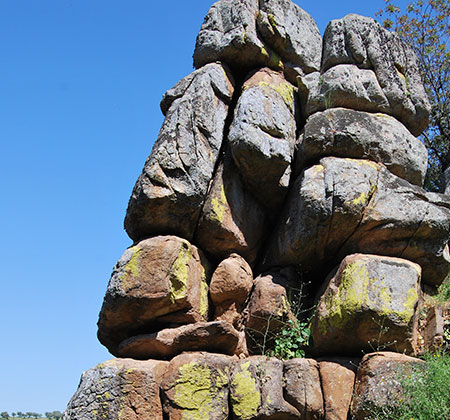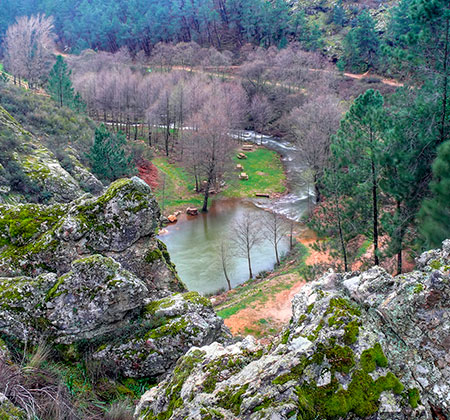 6. Defile of the Ruecas. Shelter and memory of our ancestors.
Your ancestors already knew that this was a special place. The river has excavated these ancient sea floors to leave us a heavenly spot where you can rest and discover its secrets. The cave paintings make you imagine lives long ago and their fossils tell you legends which have been passed down for generations. All this while you take a dip in crystal-clear waters or rest in the shade of magnificent riverside woodland. Connect with your inner world.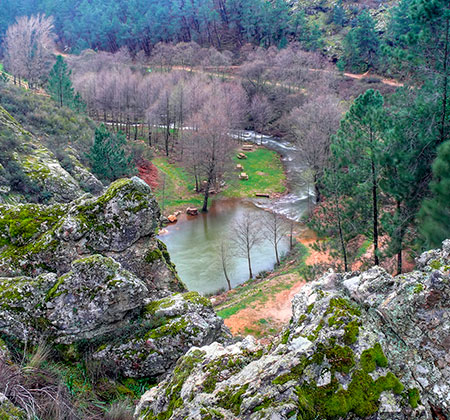 7. Waterfall and chestnut trees of the Calabazas. Get to know the giants of the Geopark.
A pleasant walk takes you to a fantastic place: centenary chestnut trees growing on sea floors which have been converted into hillside debris. Further on between ferns and Portuguese laurels, trees which speak to us of subtropical woodland, you will come to a waterfall which has become a privileged vantage point. The best of it is that it is a changing place and you have to visit it at the four seasons of the year to appreciate everything it has to offer. Many worlds to discover in a single place.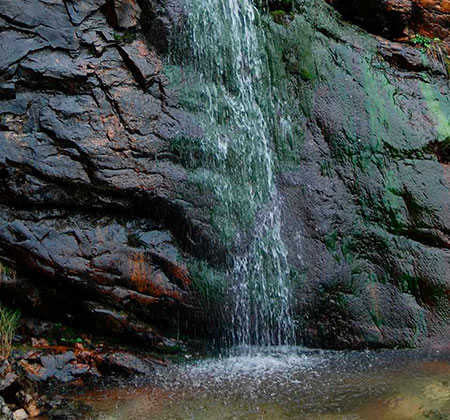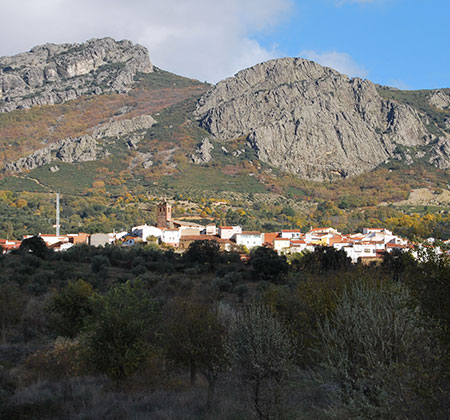 8. Canchos de las Sábanas. The whims of nature in front of you.
A rock fall created a shelter which became a canvas. A picturesque route, full of places where you can stop and admire matchless nature, takes you there. While you walk between Mediterranean and Atlantic woodland you come to a rock shelter where you can see the marks of marine currents fossilised 475 million years ago together with cave paintings 5,000 years old. In the vicinity you will find a geological garden with tracks of the marine animals which roamed over those sandy bottoms, vulture nesting sites, sculptures created by nature which gave rise to curious stories, and endless other wonders. Immerse yourself in a matchless heritage.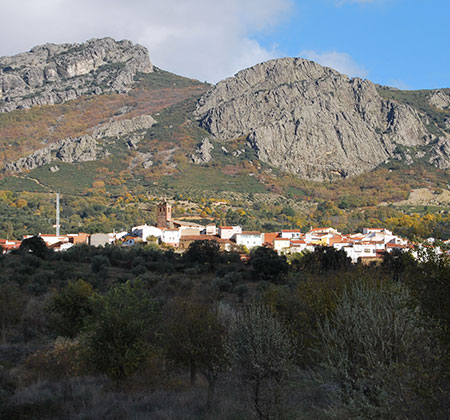 9. Risco Carbonero. An increible vantage point on the sea floor.
A rest hospital for ancient pilgrims with a garden of carnivorous plants (between you and me they are insectivorous but it doesn't sound so good) and many other attractions can be found on the road which leads to the third highest point of the Geopark. Its summit affords an incredible 360º view of a large part of the Geopark; this circumstance is also made use of to watch for forest fires. The incredible thing about this place is that it originated on an ancient sea floor full of life. The forces of our planet have gradually modified it until it has become this magnificent watchtower. Go up to the sea bottom.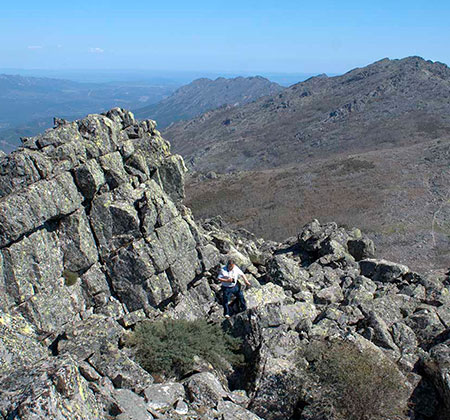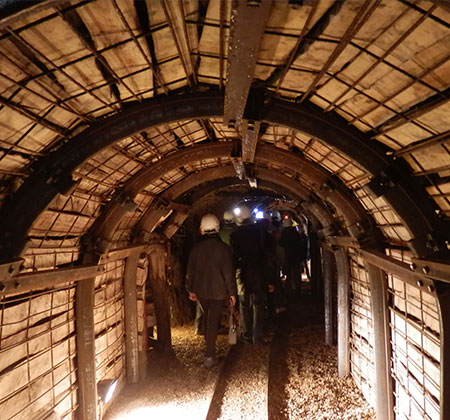 10. Costanaza Mine. Life in the depths of the Geopark.
We have always had a close relationship with rocks and minerals since the origin of our species. A century ago the gardens of the stately homes of several European capitals were fertilised with rocks of the Geopark. The ascendant magma which formed the granite of the Cerro de San Cristóbal transformed the rocks into deep sea floors 300 million years ago. This created lodes of phosphorite which made Logrosán a prosperous village. Nevertheless it was tough and dangerous work. The rest is history and very interesting at that. Put on your helmet, go down the mine, and get to know the life of those who worked there