On the website of the Provincial Council of Cáceres: we use third-party cookies, specifically Google Analytics is used to monitor the status of our website. Basically it is web analysis with which you can obtain different types of information from a site, such as its number of visitors or the conversion rate, for example, all of them in real time. Except for these cookies, this website does not use Java or JavaScript in a generic way to collect personal information from website users. Personal information is only collected through the use of email links or existing forms, the use of which is completely voluntary by its users. If you go on surfing, we will consider you accepting its use. For more information
The Diputación, owner of the website, uses cookies from third-party technical analytics, for the purposes indicated below.
What is a cookie?
A cookie is a small file that is downloaded to your computer or other device (smartphone, tablet, etc.) that you use when you visit this website. Among other purposes, cookies allow you to personalize the content you access and allow us to obtain statistics to improve our services and also offer you advertising.
In general, various criteria can be used to classify cookies, depending on who manages them (own or third-party), the period of time during which activities remain (session or persistent) or their purpose (technical, personalization). , analysis, etc.). In the latter case, depending on the specific purpose, they may or may not require obtaining the user's consent.
Below is a general explanation of the cookies that may exist in general, so that this allows us to later understand which cookies the Diputación uses on this website.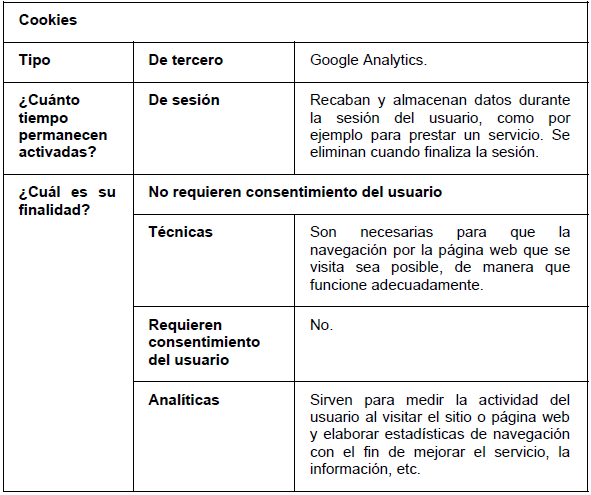 Management and deactivation or elimination of cookies:
Except in the case of analytical cookies (Google Analytics) that are necessary to be able to browse this website, at any time you can exercise your right to deactivate or eliminate cookies installed on your computer or device by configuring the options of the browser you use.
Depending on the browser you are using, the way in which you can delete, disable or block cookies will vary. In this regard, you can consult the following links of the main browsers where you can find more information: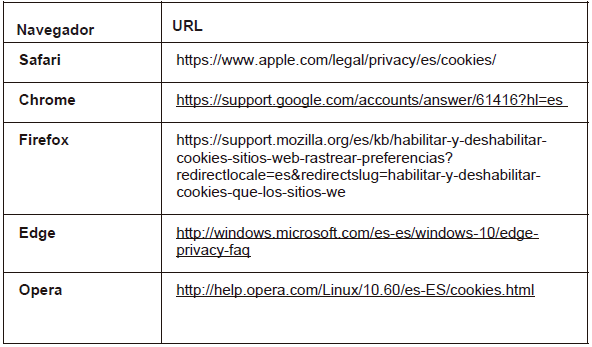 Inquiries and more information about cookies:
If you have any queries about this Cookies Policy, you can contact Seguridaddeinformacion@dip-caceres.es.
And if you want more information about cookies, you can consult the Guide on the use of cookies of the Spanish Agency for Data Protection (AEPD), prepared together with several sectoral associations
Update of the Cookies Policy:
This Cookies Policy is updated as of June 4, 2021.